When the temperatures finally start falling and Halloween and fall are a distinct possibility on the horizon, it's time to decorate!
Bar carts are sometimes neglected when it comes to fall and halloween decorating, so be sure to give yours some attention this year.
Below are 17 Halloween and Fall-O-Ween Bar Cart Styling Theme Ideas for your bar cart.
Funny BOO Themed Halloween Bar Cart
Give your guests a fright when they see your high-impact, boo-themed bar cart.
Spell out the word "boo" with some orange and black balloons and decorate the rest of the cart with Halloween accessories that you have lying around the home or check out great deals here.
This theme works best when the "boo" is paired with ghosts or even pumpkins with ghoulish faces. Top off the bar with a candy dish to treat your guests filled with candy corn.
Creepy Bat Halloween Bar Cart
Decorate your bar cart with a garland of black, bat cut-outs that you can wind around the edges of the bar cart.
Bats have a reputation for being scary, vampire-like creatures that are very predominant during the Halloween period. Take advantage of this and create your own bat theme.
For maximum effect, consider displaying bats above the bar cart and accessorize the shelves with some scary halloween accessories.
Harvest Fall-O-Ween Bar Cart
Fall coincides with Halloween, and if a scary bar cart is not your cup of tea, consider a more genteel and harvest-themed one.
Your bar cart can be decorated with garlands of fall leaves, fall vegetables and pumpkins.
Consider using an orange or brown bowl for your pumpkins and fall vegetables as this functions like a harvest offering on the bar cart.
Spider and Bats Spooky Bar Cart Theme
No one enjoys seeing a spider, especially if it's in a spiderweb above a bar cart!
Buy some fake spiderwebbing from your local craft store and cleverly insert a fake spider or two for a horrifying look for your bar cart! The spider webbing can be used as a table cloth for the bar cart, but remember to drape some down the sides.
Finish the very scary bar cart theme by accessorizing with other frightening Halloween items, such as ghosts, witches and my favorite! SKELETONS and skulls too. I admit, I really did go all out on my Glam Halloween Bar Cart below.
Haunted Skeleton and Skull Glam Halloween Bar Cart
This is my Safavieh Gold Bar Cart in my living room. It's a little smaller than the other one, however it is definitely a focal point in this space. I created a Haunted Glam Gold Skeleton Faux Mirror using my Any-Theme Frame. Read more about this project here.
For this bar cart, I am sticking with the color palette of this room. With this in mind, I only purchased Halloween decor which I could use all year long if I wanted too. I am opting in for gold, silver, glass and metal Halloween Decor with a pop of pink. Pretty much, I shopped last year for Halloween decor weeks AFTER Halloween. Added those 4 items to this bar and done!
I love skulls, not sure why; however, I found 3 really unique skulls shown in photo below. I especially love the masquerade skull which was purchased from Home Goods. The crow came from Hobby Lobby. If you notice the gold and marble spiderweb on the bottom shelf, this was purchased from Burlington. All other Hobby Lobby and Michaels. Everything else, I already had. You can read more about how I usually style my Any-Theme frame and bar cart here.
This Safavieh Bar Cart is now being sold in both silver and gold. Check it out here if interested.
Black & White Bronze Mule Halloween Theme
Black and white is a classic and elegant color scheme and is just perfect for Halloween.
While not as scary as a maroon and black theme, black and white can still create a big impression.
Select a few black and white halloween decorations, such as a white painted pumpkin, a pitch black crow, white cat, and black owl for a beautiful contrast. Pair these accessories with mules and matching martini shakers. Add a vase with a small bouquet of flowers, a pedesal or tray and a clever sign such as the one in this photo below.
Fall Themed Bar Cart
Looking for an elegant and minimalist way to decorate your bar cart this fall?
Consider a simple fall theme consisting of a fall wreath and a bowl of pine cones or mini pumpkins. You may also want to include a garland of leaves to drape around your bar cart.
Burlap would would work well with a fall theme and this can be used underneath your bottles, glasses and other bar cart accessories. It's a beautiful way to celebrate fall without going overboard but it is certainly a good reminder that fall has finally arrived.
Dramatic Bloody Maroon Halloween Theme Bar Cart
One of the scariest aspects of halloween is blood alongside bats or crows. This maroon and black theme can be easily incorporated into your bar cart for halloween. This theme is dramatic, horrific and downright scary – just what you need for your bar cart this fall!
Make some dark red Halloween punch and store it in transparent or glass jugs. No one is to know it's not blood! When paired with some black halloween accessories, you have a very scary bar cart indeed! For conveniently ready made Halloween blood follow this link. Also, feeling crafty and want to try a Halloween blood or guts recipe, click here.
Witchy Orange Halloween Bar Cart Theme
Orange is quintessentially a fall color and what better way to show it off in all its glory than to use it as the predominant color in your bar cart!
Although you probably won't be able to have everything in orange on your bar cart, try your best to have as many orange things as possible. If the shades vary, it doesn't matter, as long as it is as close to burnt orange as possible.
By using orange pumpkins, witch's hats, fall vegetables and other painted accessories, you can create quite an impression and celebrate fall in a cheerful way.
Owl, Black Cat and Bat Bar Cart
Are you an animal lover, or are you simply fascinated with owls, cats, and bats?
These 3 animals represent everything to do with halloween and can be beautifully incorporated into your bar cart for a unique look. This theme is also popular with Harry Potter fans or for folks who want a theme that is slightly different from what they are used to.
Most craft stores have owl, cat and bat decorations available for sale. Alternatively, you could buy a raw wood version and then paint them in black to emphasize the Halloween theme.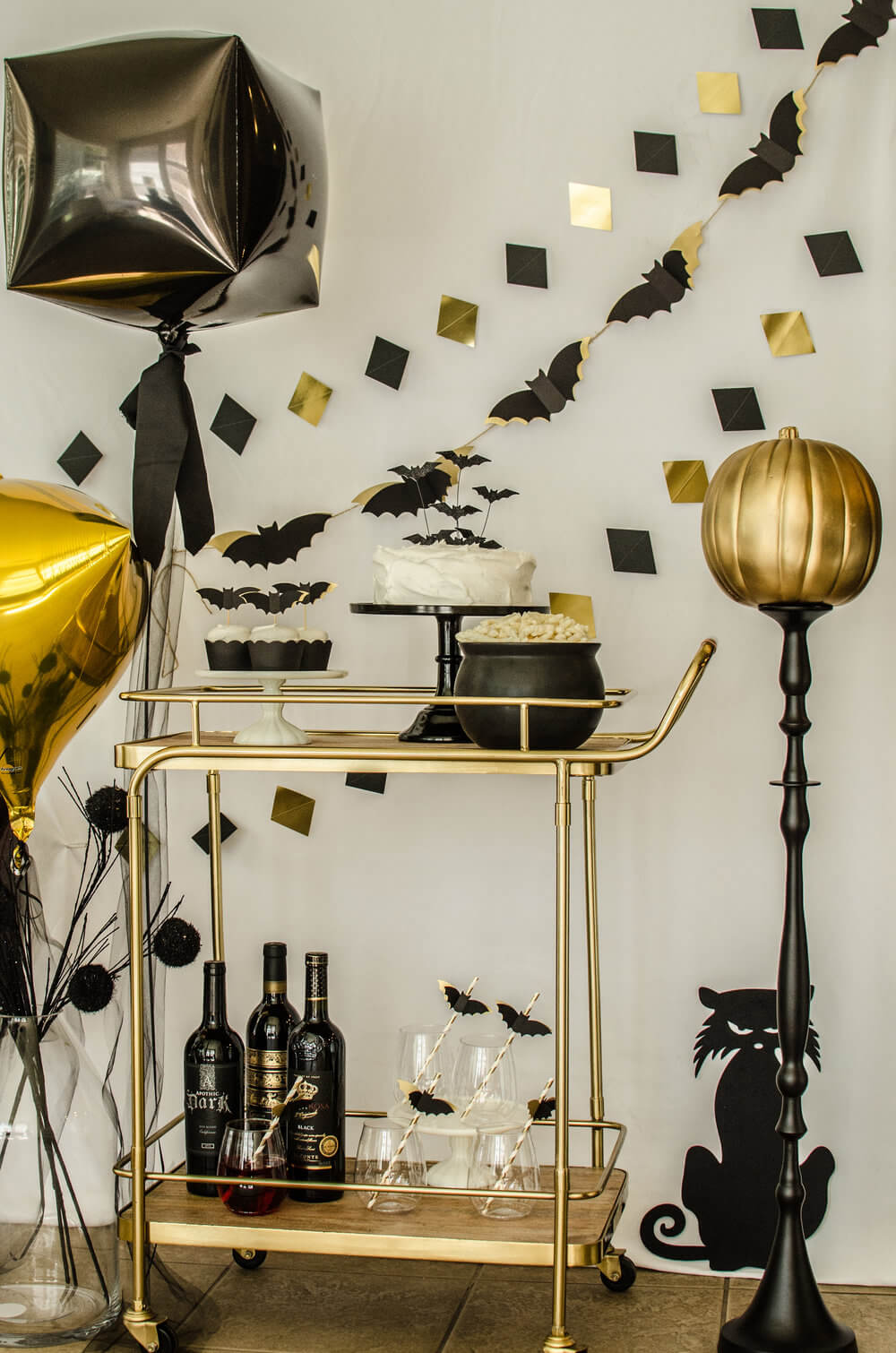 Trick or Treat Theme Bar Cart
Did you know that the grown-up version of trick and treating can be found right on your bar cart? Let your family, friends, and guests know this by styling it in a trick or treat theme. Spell it out by creating a garland of letters that spells out "trick or treat" and allow them to make their own decisions.
A great idea for this theme also is to include a dish of Halloween candies to emphasize the trick and treat idea. Pair it with some traditional Halloween decorations and you have a simple, yet clever bar cart for the coming season.
Silver and Black Glam Halloween Bar Cart Styling
Some people hate Halloween or fall decorations, because they can sometimes appear cheap or clash with their interior or exterior decor. If this sounds like you, the good news is that you don't have to accept this way of decorating for your own Halloween-themed bar cart.
Instead of the usual, boring old Halloween decorations, step up your game and decorate with some punk-style skulls, pink fur trim, silver and or gold accessories and pretty garland.
Check out video below on styling a Glam Halloween Bar Cart.
So that's all ya'll! At least for now. And as always, I hope you've been inspired!
XoXo