Be it winter or summer, the fireplace in your lounge probably sits empty, rusting away. You've probably used it… when, exactly? Central heating systems and smart thermostats have now replaced traditional fireplaces almost everywhere.
Still, fireplaces are unique and incredibly beautiful. They make a great aesthetic statement and add richness to any interior theme, be it rustic or elegantly mod. 
This is why, if you're interested in fireplaces and the beauty they can add to your home, then you've come to the right place. Enlisted below are some amazing DIY Fireplaces and Makeover Ideas to Light Up Your Home for you to explore.
But first…
Why should you have a fireplace installed (if you don't already have one)?
You guessed it – fireplaces serve various purposes. But what reasons, exactly? This question probably crosses your mind every time you think of investing in one. 
While thermostats and furnaces are the current go-to to heat up your house, fireplaces are an alternative you should definitely consider. Though they heat up only one room (depending on the square footage), the cozy atmosphere and vibe they create is something that can bring a family together.
But there are many more uses, so here's a list of all the reasons you should consider one:
A Lovely Focal Point and Cozy Atmosphere
A Welcoming Aroma – while the fire only heats up the host room, the smell can spread to the whole house. The whiff of burning fire in winter is a feeling itself, to be poetic about it!
Peace of Mind – Ever gone through a terrible storm that shorts out the electricity? The fireplace is the best answer to that problem because it doesn't need electricity (well, unless you choose to get a modern electric fireplace heating system).
Create a Romantic Setting
Transitional Home Decor Space – style it up with every Season, Holiday, Family Gatherings and Entertaining Friends
So, if you don't have a fireplace, you now know why you should consider getting one. And if you already have one, it's time to indulge in some glam fireplace décor!
Fireplace Makeover Ideas Before and After Results
A few DIY fireplace makeover ideas to turn your drab fireplace into a glam fireplace! Now that you know you want to makeover your fireplace, it's time to jump to a few Before and After fireplace makeover ideas.
Here, we've divided the ideas into two categories: the Exterior of the fireplace and the Interior of the fireplace. The exterior generally includes the surrounding décor, while the inside is more focused on DIY fireplace makeover ideas.
So if you want a glam fireplace, then read on! I've got quite a few ideas for you.
Decorating the Exterior of Your Fireplace With Paint
Decorating the exterior of a fireplace is the real challenge. That's why we've got a few glam fireplace décor ideas we're sure you'll like.
Ever thought about brightening things up? You can do that by painting the room. Layer the walls around the fireplace with any color you want to make the room pop. I would go for either a water based matte paint in the color of your choice or a satin paint. One gallon is more than enough, however, it's good to keep extra on hand for touch ups, scratches etc. See high heat fireplace options here.
I painted this brick fireplace using regular acrylic paint by Sherwin Williams on the outside and high heat paint inside the fireplace in white. Once the high heat paint dried, I covered the white paint with Windsor Greige paint. High heat paint is recommended on gas and wood burning fireplaces. The white is called Alabaster and the brick is painted in Windsor Greige and the walls are Urban Putty (just for comparison)
You can go the classic all-white route and create a minimalist décor that appeals to the eyes, or you can go metallic and modern, with porcelain and black.
If you have an older brick fireplace, you could easily upgrade it by giving it that white wash look which I'm sure you've seen around. A simple way to do this is using the Brick Transformations Paint, however there are countless painted brick fireplace makeover ideas.
A second idea is marbling the whole area or just the hearth. Be it black, white, or any other color, you can install a style that will woo all your guests. Check out this array of marble tiles.
It may be expensive, but you can be sure that marbles work magic – so keep that in mind.
Lisa with the Creative Fashion Blog marbled an entire fireplace for under $100. The transformation is quite an elegant upgrade! See the before photos and read more here.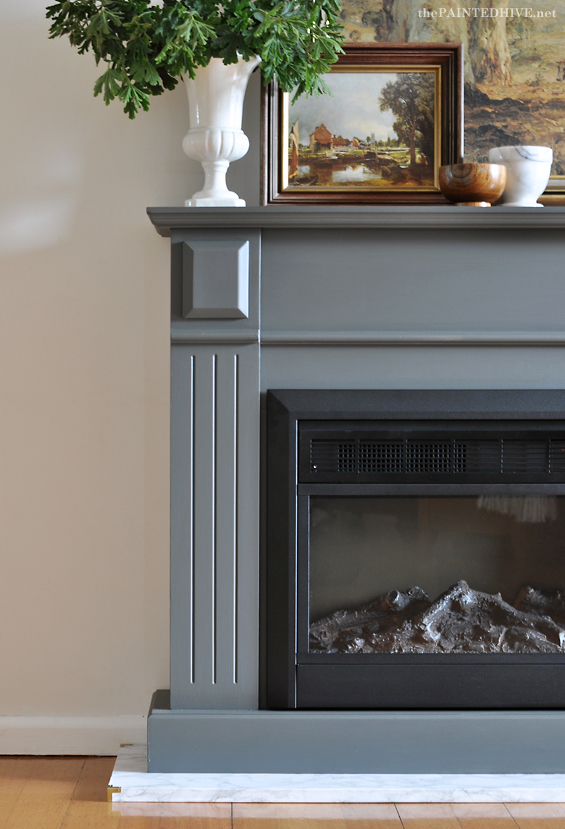 Kristine with The Painted Hive was very creative with this $20 DIY one of a kind Marble Fireplace hearth using marble tiles. Read more details to get this look here.
If you don't want to put in too much effort, you can easily work at refacing your fireplace. I actually had mine upgraded from a date square tile to a herringbone marble tile recently. It definitely upgraded my space and goes much better with my glam ambiance.
My Fire & Ice Newly Tiled Fireplace Makeover
So I replaced the tile in this photo below with a more modern herringbone tile. I purchased brand American Olean #2806832 in White Ember. These are $9.98 each at Home Depot. There are matching pencil liners and crown molding border around the edges where the tile meets the mantle. The walls of the interior of my fireplace was filthy, but with light scrubbing it turned out pretty good using a fireplace cleaner. I then swapped out the faux wood with fireplace glass, hence the name "fire and ice". See photos below.
I tell you what, this fireplace glass radiates a heat unlike any faux wood. The glass stays looking just like this. It doesn't turn black or get darker. It's really amazing. Check out my mini video below of the steps on how I set this up underneath the fireplace glass.
If you love this look above, but don't want to deal with real tile and cement, have no fear and another solution is near! Simply use Peel and Stick Tiles. Peel and Stick tiles are easy to pre-measure and cut to fit your fireplace and even less expensive than real tiles. There are so many beautiful peel and stick styles to choose from to achieve a look similar to this project below.
You could also go with stone clad or brick fireplace refacing to give your fireplace an edgy, timeless look. These looks can even be combined! Brick up the inside of your fireplace and decorate the outside with stones – giving an even better outlook. Search for Artic Ledgestone online to get this look below.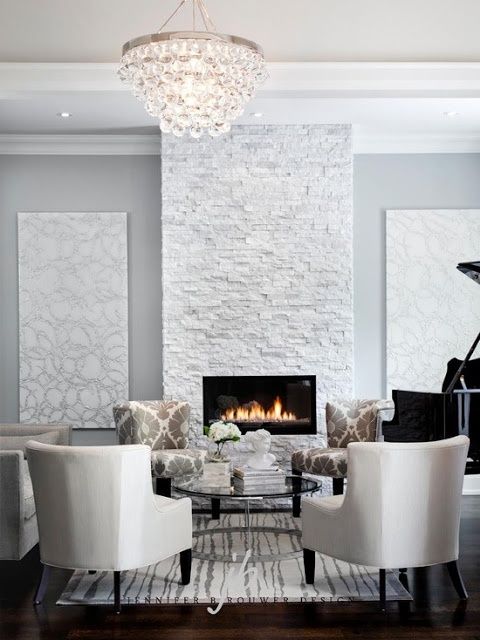 On the other hand, you can also go rustic with polished wood refacing and make your fireplace glossy and glamorous.
Accessorizing works just as well on your fireplace as it does in the rest of the house. There are countless ideas you can use to accessorize, but of course, here are the best few.
1. Create a modern glam fireplace TV stand! Is the mantle feeling too empty? Make it a TV stand – it's useful and fills up the bland empty space.
2. A Mirror above the fireplace – Go the elegant route and place a mirror above your fireplace to make it functional, beautiful, and useful. 
3. Add some Artwork
Artwork over the soft glow of fire… you might want to see that beautiful image yourself!
4. Decorate with a few wallpapers
Wallpapers are another easy way to liven up the room and fill it up. Plus, you can use any style you want and decorate to your heart's desire.
5. Cover it up – you don't like the smoke or don't want anyone to touch the fire accidentally (kids, you know), there's an easy, stylish answer to your problem. Just cover it with a fireplace screen or glass.
Shop Mirrors to go above your fireplace.
Show off your fireplace and shield others from sparks with a glass shield.
Lani Does It' shop has a great collection of iron mesh cover options that you can visit!
The Interior
If you're not up to returning to a traditional fireplace and burning some wood, there's still no need to worry. A Fireplace can easily be transformed into anything you want. Here are some DIY fireplace makeover ideas, as promised.
If you don't want the wood or smoke but still want the heat, a great way to change it up is by installing an electric heater! Amazon has a great range of options that mimic traditional wood fires and can bring the same aesthetic to your fireplace. You could also go with a portable electric fireplace mantle. Many of these actually heat up your space and have logs you can buy which are safe to burn without ventilation. I've posted one that is available now with quick ship option along with two color options.
The Interior of a fireplace can be easily tiled to shine and fill it up with high heat precut fireplace panels when you plan on actually using it for heat or fire. If not, you can get creative with what you use for fireplace fillers, such as candles! A few more ideas on that end can be found below and perfect for summer months or all year around.
Check out this Inexpensive DIY Glam Mirrored Electric Fireplace Tutorial
Have a few extra paintings or sculptures lying around? Use your Fireplace! They'll be extra visible being in the center of the room. I always suggest buying frames second hand and purchasing inexpensive art printouts on Etsy. Larger printouts can be purchased printed out or you can have them printed out at a Fedex Store (Formerly Kinkos). However, if you're wanting them much quicker and less efforts, shop this link.
It can sometimes be challenging to find the perfect spot for a vase of flowers. Every available space just gets filled up, right? That's where empty fireplaces can be used. Prop up a few flower arrangements in that space, and you're good to go; you'll have beauty, elegance, and fill up all that empty space that was less pleasing to your eyes. This floral fireplace is STUNNING! Yeah, it's "over-the-top" shi shi foo foo, but that's what I love about it!
Fit in all the books you don't read anymore and set them up with style. Stacks and stacks of books… That's definitely eye-catching! There's so many DIY Youtube tutorials on adding built-in book cases to your walls and nooks. This is also something to consider adding to your fireplace. It will add a focal point, more storage, style, and possibly increase the value of your property.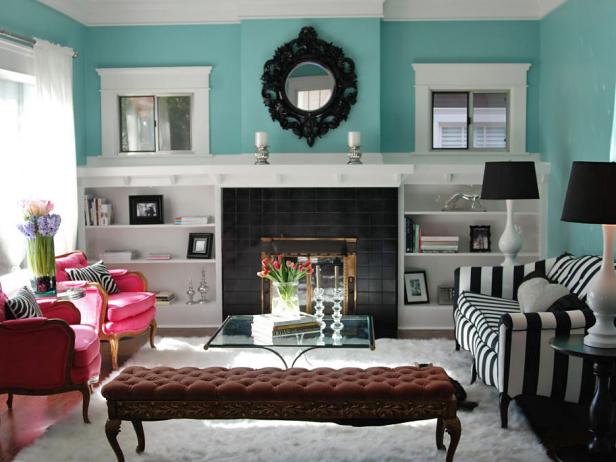 I recommend these videos below on building both the Fireplace mantel and Built-Ins by Mike Farrington below and Designed To The Nines.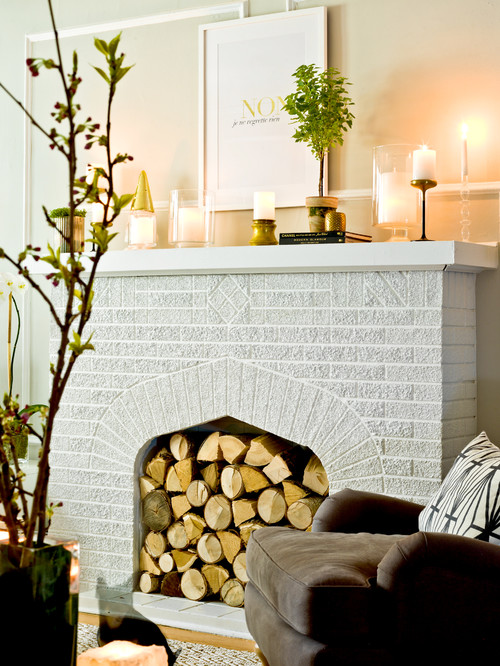 Conclusion
There you have it! Having a fireplace is convenient, useful, and beautiful – no matter your home decor style preference. These DIY Fireplace Makeover Ideas will both beautify your home and inspire everyone who visits in both the summer and winter months. 
Thanks for stopping by! I hope you've found this helpful and have been inspired.
Stay in touch by subscribing or following me on Pinterest and Instagram @lanidoesit.